Green Kill 2020 August Art Exhibition featuring Deirdre Day, Melanie Delgado, Chime Lama and Noah David Roberts will be on display from Saturday August 1 to Saturday, August 29, 2020 with an opening party on Saturday, August 1, 2020 from 5-7 PM.
New Normal health concerns are a primary. The customary Green Kill opening of beverages with finger foods will be covered for protection. If you wish to come on opening day, please understand that 10 people are permitted in the gallery at one time, that all attendees must were face masks, and we will us a "Non-Contact Infrared Digital Thermometer" and "Pulse Oximeter Blood Oxygen Level Monitor" for screening. There were be outside seating for your convenience. Green Kill is equipped with a heat pump so the air is constantly refreshed and the space is, as always, sanitized.
Meet Deirdre Day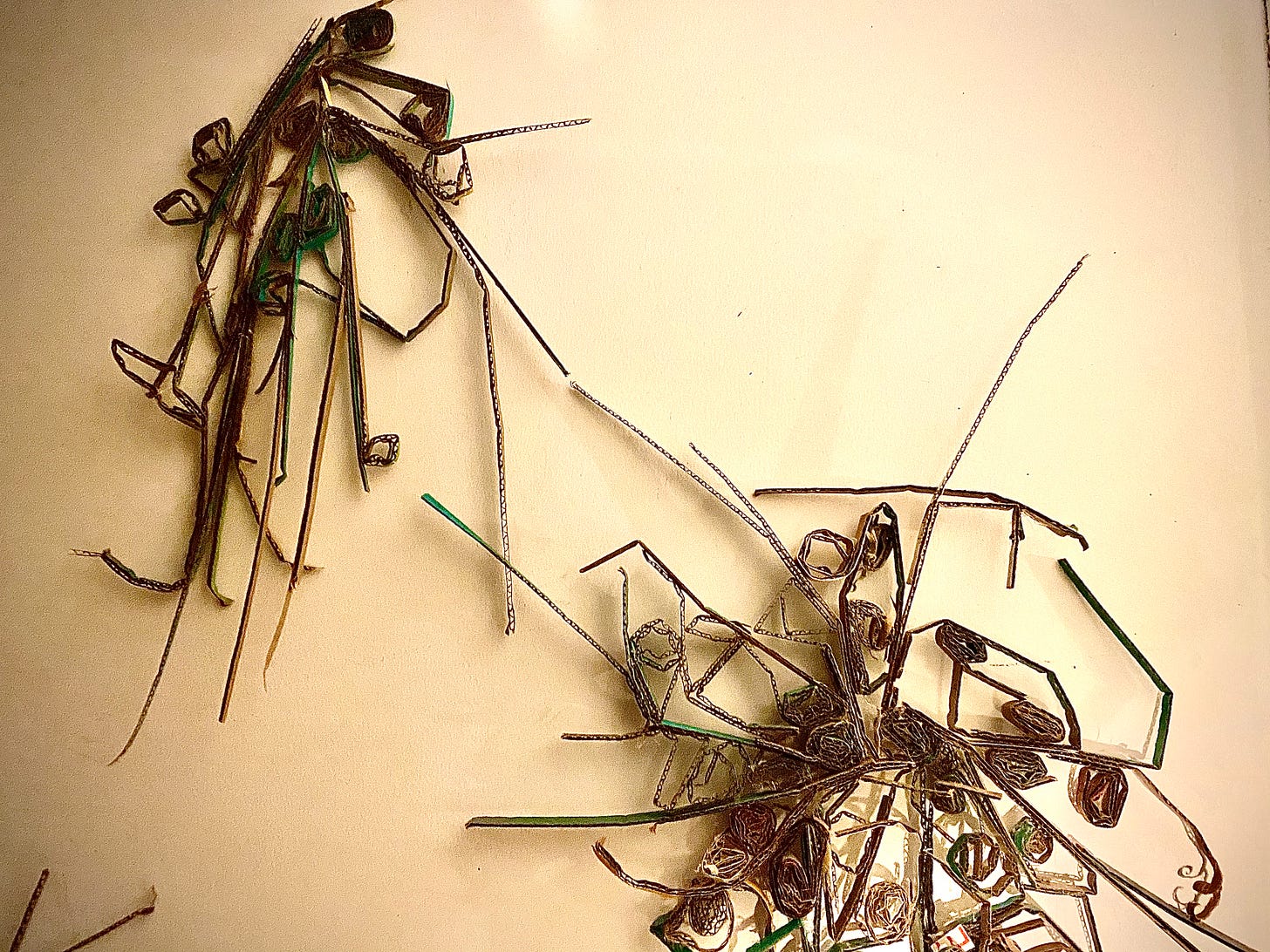 Collage work by Deirdre Day
Deirdre Day Exhibition
Ten Questions
Do you remember when you first saw yourself as an artist?
When did you first think of yourself as an artist?
I love this question because it seems completely innocent but the more you think the more complex it becomes. I almost blithely marked a time in my head. Three or four perhaps? Young anyway but before I had language. Or not? When did I even realize there was such a thing as an artist? That couldn't have been two or three and probably my first idea of an artist would have been perhaps Harold with his crayon. But Harold has no sense of what it means to be an artist. He just is. And he's creating his own world.

We have a habit of superimposing what we know now on top of what we knew then. It's hard to access that one who doesn't know stuff. But knows other stuff. There are people who think the story of how he creates a world full of pieces and other interesting things but then decides to go home. And he can't so he draws a policeman. And that doesn't work. So, he draws the view from his bedroom and that creates a drawing of home. This can be seen as pretty dystopian if you think about it. Entering his own art like a little madman he comes to inhabit the world he drew. Which would be good because of how that is only limited by what you think of During this time I've been like that with a few limitations. But I've shaped my days.
Do you have anything you feel compelled now to say about your art?
I hope what I am compelled to say is the art itself. I keep thinking about the Spartan boy who steals the fox and rather than confess his crime hides it under his shirt while it tries to claw its way out. And it kills him because he won't let it out. I think art is like that for some of us. If we don't let it loose it will kill us.
Is there an artist that keeps coming back to you for inspiration?
I try to find inspiration everywhere but if there are two artists I return to often (and two so incredible different artists) it would be Franz Kline and Brueghel. One so pure in regards to line and simplicity and the other so abundant. I was recently in Mexico City and I found that everything I looked at sparked ideas. I've always loved Duchamp as well. And Lance Letscher's collage work. And a host of people I look at on Instagram.
Do you feel you have support from colleagues?
It's hard for artists to support one another when they can hardly support themselves. I have a few eyes and ears I depend upon, but I do wish I were better at being in community. Sometimes I'm so desperate for the time to make things I forget how inspiring it is to get outside and into the world.
Do you feel removed from the conventional world?
I have lost a real sense of what convention is. So probably yes. I believe in magic and that seems inherently unconventional.
What is it like to wake up everyday for you?
I used to only write while in that liminal stage between waking and sleeping but perhaps because I've had the privilege of being alone and in the last few months of not being able to go anywhere, the gap between my dreaming and my waking has narrowed.
What role do you see your art having in society?
I think that everything I do has something political inside it even if it's not (and to my mind, nor should it be) manifest. I don't think you need to agree with me politically to appreciate what I make. For instance, the majority of what I am showing now is made out of cardboard. People have suggested I cast it in bronze or something but that seems to be to defeat the point that it ought to be created out of junk that we all have around. I don't want it to be immutable and heavy and expensive. Nor do I need to believe it will last for eons. I simply don't think the human race has eons.
Do you get high from creating?
There is no high like the high of making something that surprises and delights. My work is generally very intuitive and I rarely know where I will end up. So there's so much joy in finding my way through to the end.
What are you not being asked that you'd like to share?
What am I not being asked? I'd like to talk about the different kinds of carboard I use and how many hot glue blisters I have. I suppose—the ins and outs of wrestling with the materials.
When are you most happy?
Creating is the best high I know of. And when I am immersed in that process I am happiest. It takes me hours and hours of doing nothing though to get to the place where I can do anything so I have to allow myself to sit around and be as inert as possible.