Featured actor in "Erotic Fire of the Unattainable," Gay Walley.
Frank Vitale, known for his docufiction filmmaking presented a director's cut of his new film, "Erotic Fire of the Unattainable," at Green Kill in 2019. The film is showing in the Brooklyn International Film Festival at the end of May. (Brooklyn International Film Festival will be virtual for the first time, and it will be free! You just have to sign up and you can screen any film. There you can watch "Erotic Fire of the Unattainable." If you like it, please give it a vote.) The festival is from May 29 to June 7.
Green Kill screened the Frank Vitale classic "Montreal Main" in 2019, directed and staring Frank with an ensemble of notable actors, including Allan "Bozo" Moyle who later directed "Rubber Gun" and "Pump Up the Volume, " "Empire Records." and "Times Square, " and Steven Lack, a celebrated painter who later acted in "Scanners."
Beginning left Allan "Bozo" Moyle, Frank Vitale, Steven Lack, and, cropped right, the late Peter Brawley.
Erotic Fire of the Unattainable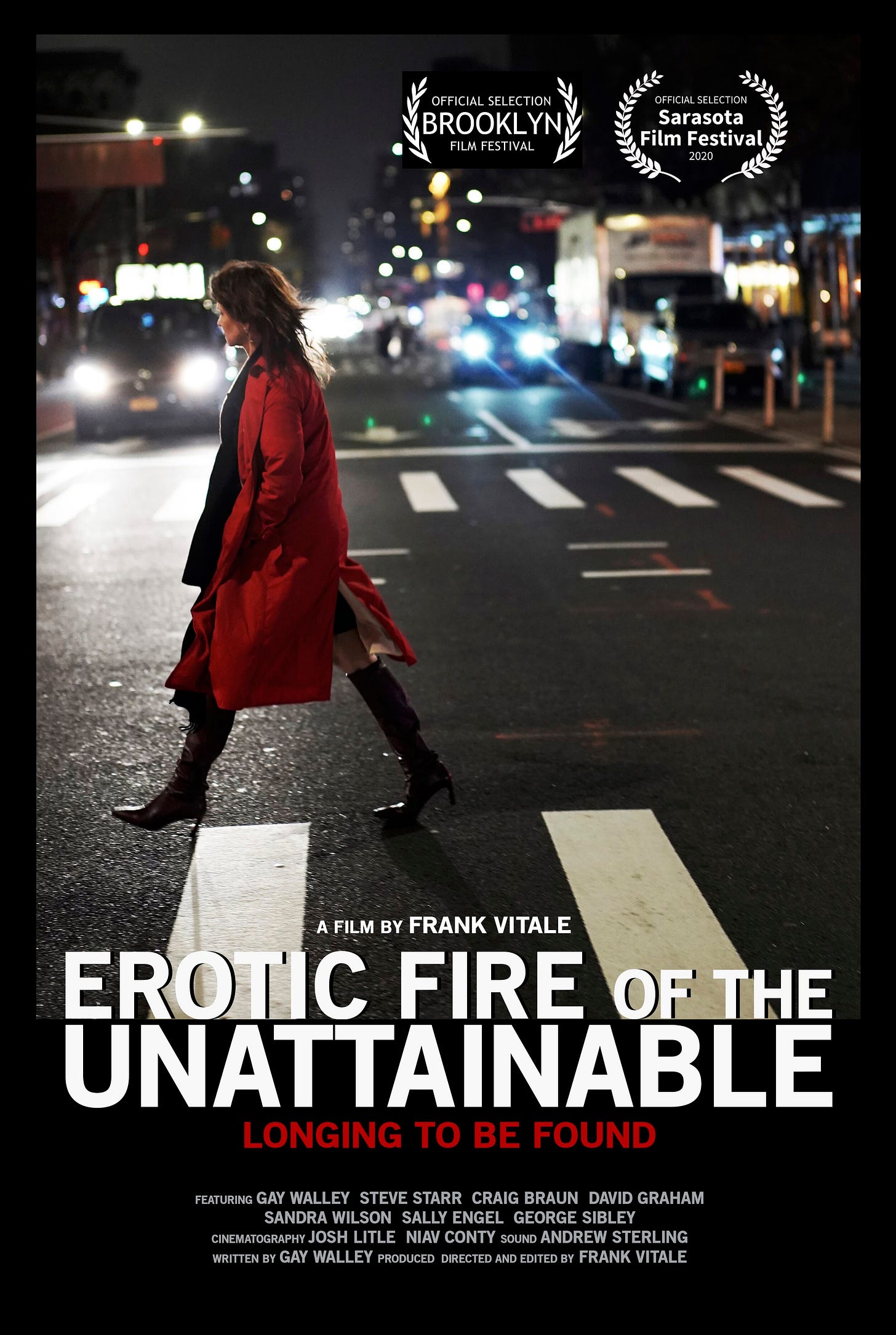 It's not just the unusual name, but "The Erotic fire of the Unattainable," is a sophisticated, at times amusing, yet earnest look at people over 60 still wanting to "have it going on." The film explores the love life of a woman of 66, who is a writer, and the men she gets involved with – one, a witty Wall Streeter resistant to commitment; another, a contractor who loves her but has his own secrets, and a famous writer who does not live up to all she had hoped. These men are muses to her work, and through them, she explores the truths of relationship for a woman, alone, in her late sixties who is desirous of love, but may also have some residual ambivalences. Even so, she seems to be having a pretty good time!
Gay Walley has written four books of fiction – STRINGS ATTACHED, THE EROTIC FIRE OF THE UNATTAINABLE, LOST IN MONTREAL and DUET, one produced film (other than this one), THE UNATTAINABLE STORY, and has a play opening in London in April LOVE, GENIUS, AND A WALK. This is her first venture in front of the camera.
Steve Starr's career has ranged from social commentator, memoirist, futurist, essayist, librettist, political pundit and fantasist. He lives in a tiny de facto sovereign state clandestinely situated between the Hudson River and the East River sharing an invisible frontier with New York City.
Craig Braun's New York theater credits include Other Desert Cities, Heisenberg and Macbeth. LA stage: Vivien, Our Lady of 121st Street and Proof. Braun's TV guest star roles are Billions, Cold Case, ER, The Practice, Third Watch, Law and Order and the ZDF German miniseries: Ums Paradies Betrogen. Film work includes Swordfish, Great Expectations, Flawless and The Associate.
David Graham is an abstract artist, who hails from Alexandria Virginia. One thing that everyone knows about him is that he is an avid animal lover. This is his first appearance in public without an easel in front of him!
CREW
Directed, Produced and Edited by / Frank Vitale
Written by / Gay Walley
Story Consultant / Tom Vitale
Director of Photography, Effects & Post Production Supervisor/ Joshua Atesh Litle
Director of Photography and Color Grading / Niav Conty
Location Sound and Additional Camera / Andrew Sterling
Visual Design / Katie Vitale
Additional Camera / Susan Stava
Unit Production Manager / Matt lewis
Music
Audio Network
Associated Production Music
"The Best I Can"
Composed by Stéphane Huguenin
"The Best You've Had"
Composed by Andrew James Powell and Emily Taylor

Erotic Fire of the Unattainable Trailer
Meet Frank Vitale
Frank Vitale has been making films for thirty years. He produced and directed over 150 shorts, documentaries, PSAs, television specials and features that were honored with 75 awards.
His feature, Montreal Main, played major festivals: Locarno, London, Mannheim, Edinburgh, AFI, MoMA and the Whitney. About it, James Stoller, of the Village Voice, wrote: "...humorous and surprising, it's a film which above all lives in its people: not just 'performances' to admire, but characters which, while often fragmentary, ring so quirkily true--the faces, the manners and nuances-- that even Vitale's concise frames cannot really contain them..."
In his new feature, Erotic Fire of the Unattainable, Vitale returns to the docufiction blend that made Montreal Main a stand out.
Frank Vitale's short documentaries can be found here.