Green Kill 2020 July Art Exhibition
The July Art Exhibtion features three artsts— Fred Duignan, Don Perlis and Karen Shasha
Green Kill 2020 July Art Exhibition featuring Fred Duignan, Don Perlis and Karen Shasha will be on display from Saturday July 4 to Saturday, July 25, 2020 with a unique opening party on Saturday, July 11, 2020 from 5-7 PM. Covid 19 health concerns are a primary. The customary Green Kill opening of beverages with finger foods will be covered for protection and served with tooth pics. How quaint! If you wish to come on opening day, please understand that the number of people permitted in the gallery at one time will be small, and you may have to wait out front briefly before entering. Green Kill is equipped with a heat pump so the air is constantly refreshed and the space is, as always, sanitized.

About Fred Duignan
Fred Duignan, "The Core," 2020.
My new work "Unzipped"addresses the spiritual crisis that I personally feel as age, physical infirmity and the accumulation of time lived feels like a personal denouement. These works attempt to open the space so long closed off by systems of religious doctrine and practice as well as art dogma disguised as critical theory.
If as Donald Kuspit (from a talk at the School of the ArtsSpace at Virginia Commonwealth University in Richmond about Kandinsky's "On The Spiritual in Art)" maintains, Barnet Newman and Mark Rothko serve as spiritual provocateurs then the Unzipped series is my response to this provocation to describe the stages of my spiritual experience by opening up and walking past Newman's plastic convention of the singular mark (zip) that identifies spatial structure and denotes the absolute and sublime to address my personal spiritual narratives.
As this work struggles to be effective within the banal, materialistic, business-dominated art world, this procerss mixes with individual impressions of light and dark, color and structure as well as content and impulse to express these experiences and aspirations within the ritual of the studio where the journey is the destination.
—Fred Duignan
Ten Questions
Do you remember when you first saw yourself as an artist?
I had taken a Life Drawing class on the suggestion of a friend, since I was having a nervous breakdown in the NYC banking industry. On the first night, the professor asked me what I did for a living. When I told him, I was working at a large New York bank, he told me to go to work the next day and quit so that I could go to art school. Brushing this nonsense off, I continued to attend the sessions and became committed to making images on the night of the seventh week.
Do you have anything you feel compelled now to say about your art?
After many years of harnessing technique, pursuing picturing, following trends, and restating history, I now avoid making art that is burdened by technique, overwhelmed by thought, or crushed by style. The resulting objects of my latest direction, reveal, inform, and decide their place in the world's view. Painting has become an experience based on the belief in my hand as a channel of the expression hidden in the materials themselves. It is the resultant dialogue with color and form where my originality resides. The uniqueness of the object as itself fully revealed presents the viewer with a complex visual experience resulting in direct recognition.
Is there an artist that keeps coming back to you for inspiration?
Myself.
Do you feel you have support from colleagues?
I have a few painters who I trust to view my work with a focused eye without the jaundice of competitiveness. My poetry friends and colleagues who are art writers as well as those who work in other media are much more reliable and unbiased when making comment.
Do you feel removed from the conventional world?
I am in the world, but not of the world.
What is it like to wake up everyday for you?
Since moving to Woodstock, my mornings are filled with gratitude, fresh air and anticipation.
What role do you see your art having in society?
If my paintings impact the viewer enough to think of something other than themselves in relation to them, the work succeeds.
Do you get high from creating?
I live in a perpetual state of artistic doubt, which helps me push harder.
What are you not being asked that you'd like to share?
Nothing.
When are you most happy?
I am most happy while floating in the pool on a hot day.
About Don Perlis
There are plenty of writers who have celebrated him and his work. A wonderfully informative list of reviews are available here. If one person may be quoted for example, let it be the late Raymond J. Steiner, a notable writer poet, essayist, lecturer, and painter in his own right:
Perlis is a painter who feels, who sees, and above all, who thinks — a rare treat for this writer who, in his 35 years of writing about art, finds fewer and fewer such artists. A probing scholar, Perlis's province not only includes his world of artistic knowledge and technical skill, but also of ancient lore, of mythology, of history — in brief, the world of man. His shelves in his study include books on such classical writers as Ovid and Homer, ancient writers about whom he constantly seeks newer — and better — translations. But this is no idle intellectual curiosity on his part; Perlis knows that there is never one translation of a given event, idea, or thing — and, given that his subject matter is largely representational, this is no small insight.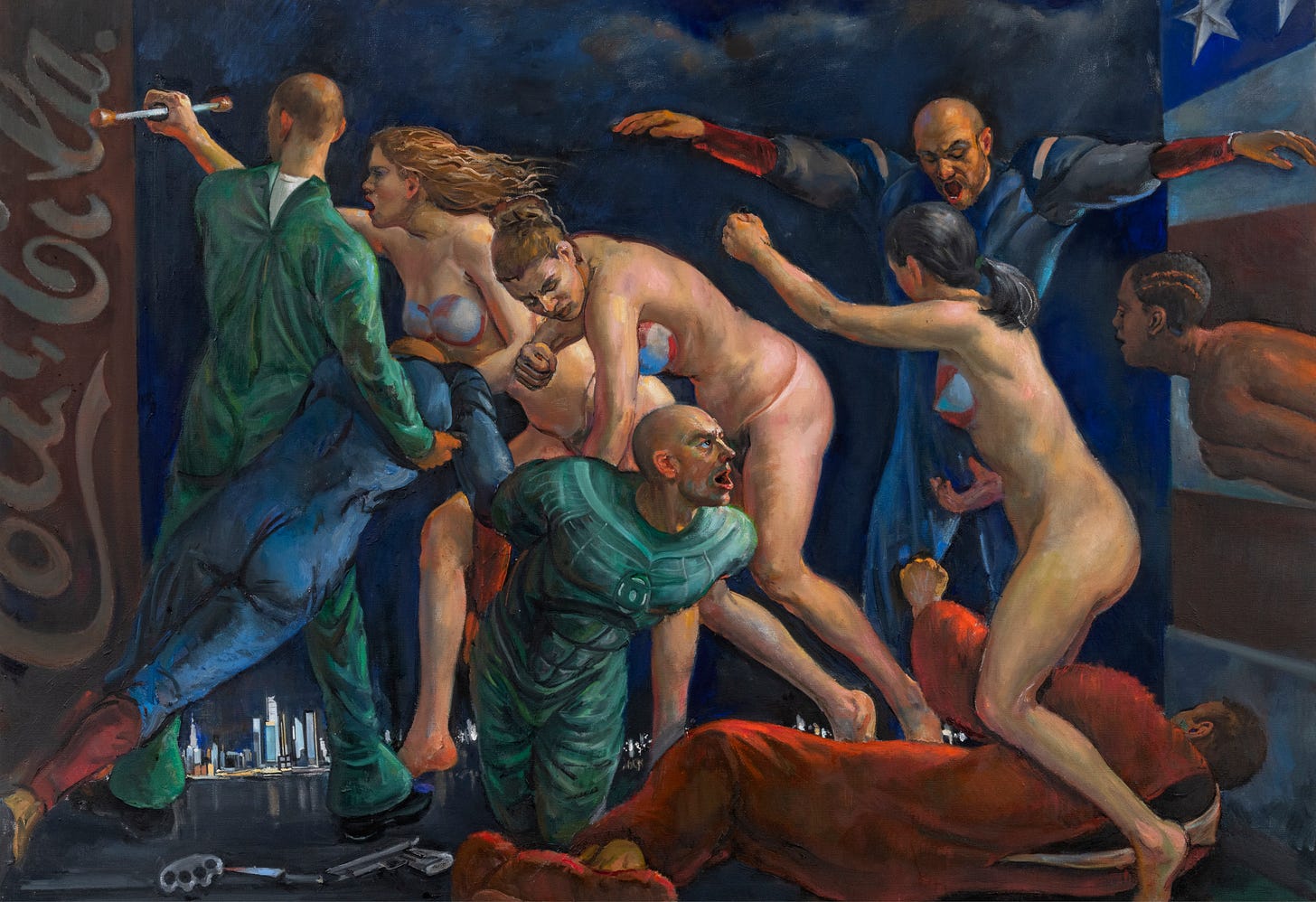 Don Perlis. "Woman Warriers," 2019, 54"x78"
At recent exhibition, "Tumpworld," at Firecat Projects in Chicago, open in November of 2018 the guest author commented:
Don Perlis' work is like a garish, candied wonderland. It is bright and appealing, even seductive. While his paintings possess a controlled technique, these are cheeky scenes of sarcasm, a showing of the increasingly disturbing hilarity of American life right now.
Ten Questions
Do you remember when you first saw yourself as an artist?
Yes. I was just a little kid but from my earliest years I could always draw better than anyone in my classes so it gave me confidence as well as a mission. I even remember as a 3 or 4 year old drawing cartoon characters with chalk on the sidewalk in the Bronx and basking in the praise of the grownups that were watching.
Do you have anything you feel compelled now to say about your art?
I don't feel "compelled" to explain anything.
Is there an artist that keeps coming back to you for inspiration?
I have been immersed in pre-modernist art history most of my life and love so many painters of the past from many different countries that its hard to pick one.

Since I first discovered what painters had done, there was always one guy who I felt a special personal affinity with who I keep coming back to, and it is Antonio Allegri, commonly known as Correggio, which is also the name of the small town in Italy, near Parma that he came from.

When I first got married in 1968, my wife was English, and her mother gave us a little red Beetle as a gift. We picked it up in Belgium and spent the next 2 months going around country by country and city by city in Europe. From Italy, France, Spain, Germany, Austria, Belgium, sleeping at campsites in a pup tent and going from one museum to another. That trip had a profound effect on me as it was the first time I was powerfully struck by the incredible quality of the most prominent works. I got an on the ground lesson of how painting actually developed with each country adding and contributing to the ongoing tradition. I felt, and still do that is very necessary to see these works in situ, in their native countries and under their native sun. In that sense the Met in New York can be confusing, although I always go there. The immensity and shock of that experience and has never left me.


Another another major influence on my work is Lenny Bruce.
Do you feel you have support from colleagues?
From the first moment when I first showed a group of 4 paintings at the Whitney in 1970 I had support, and then I had my first solo show at Graham a year later. I was the youngest artist at Graham with a stable comprising Alice Neel, Edwin Dickenson and Lennart Anderson, who initially helped me with Graham, as well as getting me my first teaching job. I was Alfred Leslie's assistant for a few years in my early twenties and was his model for the lower part of his self-portrait at the Whitney. After my show I spent a summer teaching at Skowhegan, a prominent art school in Maine that specialized in figurative painting. I had previously gone there as a student in the early sixties, where I met half the New York art-world at that time ( it was very small ). Ben Shawn and his wife, Jack Levine and his daughter Suzy who was also a student , Alex Katz, Al Held the painter, Al Leslie, and Frank Ohara, Robert Andrew Parker, the great watercolorist, Lennart Anderson as well as Marisol the sculptress and Henry Geldzhaler, the then curator of Contemporary art at the Met in NY. All these artists were all either there for a lecture or teaching .The summer I was teaching there I met Betty Davis the actress, who was there all summer as she was a friend of the founder, Bill Cummings, a prominent portrait painter of the twenties in Hollywood. Paul Georges who was teaching with me became a good friend, My wife and I moved to Bridgehampton soon after. Paul and Lizette had a house nearby in Sagoponic. Bridgehampton in that day was not fashionable. Besides the locals and the potato farmers there were lots of artists. Paul took me to see Bill Dekooning at his studio in Springs and that was memorable. Through Paul I met lots of artists, Jane Freileicher , Fairfield Porter. We went to their studios , their parties and swam in their pools, even painted together on the beach.

I have been fortunate in that I've had plenty of other artists as well as many critics supporting my work. Earlier, while I had been working on my show for Graham, Raphael Soyer, who had a big reputation at that time and had had a retrospective at the Whitney, became my mentor. Raphael who was then in his eighties, as well as being a very fine painter and Draughtsman, was very art-world savy, he had shared a studio with Arshile Gorky back in the thirties. He obtained an award for me from the "American Academy of Arts and Letters" right after my show at Graham. At the ceremony I met Georgia Okeefe as well as Aaron Copeland, the composer, Tom Hess who was the Editor of "Art News" at that time published a full color article on my work "How to be an Old Master at 28". That first solo show was reviewed by Hilton Kramer in the Times and Jed Perl also reviewed it favorably. Most of my subsequent shows have been covered by prominent critics. I've had about a dozen solo shows since in New York at different galleries. Charlie Finch, Anthony Haden-Guest and Lucio Pozzi have been especially supportive as well as David Cohen and there have been many others over the years. In 1994 a documentary on my work was made and narrated by F. Murray Abraham, with many prominent critics contributing. I also was awarded the final solo show at the "National Academy of Design Museum" at their old Fifth Avenue building 2 years ago so I have hardly been neglected.

Due to the nature of my work most current museums and critics are afraid of it, which I expect will change.
Do you feel removed from the conventional world?
I do not feel at all removed from the conventional world. I have a daughter as well as grandchildren and have to function in the real world
What is it like to wake up everyday for you?
Well I'm staying 24/7 in my studio during the Covid 19 crisis. I get up at 5:30 am and work till dark every day then finish up with a glass of wine, a movie, and hit the sack about 9 or 9:30 every night.
What role do you see your art having in society?
As my work is based on Societal events It could command a larger role, as it is I now have to wait until I exhibit my work to get a reaction.
Do you get high from creating?
I get a high if things go well.
What are you not being asked that you'd like to share?
My aspirations for the work which are very high in as much as I'd like to see a wholesale return to representational painting. I expect (and hope) my work to be instrumental in bringing that about, and I'm not talking about the fake photographic crap that is now prevalent. Any moron (including Richter), can ape a photograph, but to really draw and paint! And from imagination and not just ape reality either! To make compositions in a continuity of space. To achieve that has been so forgotten that it is fresh again. Now that's worth doing and seeing. I state this because of my love for the authentic real work that still fills the museums of the world and my lack of interest in the fake as well as all the other exhausted ideas that are constantly being recycled by current curators to numbing effect.
When are you most happy?
When I'm working
About Karen Shasha
As human beings we communicate best in stories. They lead us to action, and they inspire emotion. Objects and places hold narratives of personal history and collective memory. These photos are story thresholds.
The Thing Is
The Story Here
Ten Questions
Do you remember when you first saw yourself as an artist?
When I was young, lots of people were telling me I was an artist. I think I resisted the category because I didn't like being defined. I didn't really understand what it meant until much later. Over time I've thought about what it means to me to be an artist - I think it arises from being compelled to pay attention always and everywhere. It seems I have no off switch. This often got me into trouble when I was younger because every unbalanced and desperate person could tell that I saw them, and made a beeline for me, and I needed a certain amount of time on this earth to deal with the consequences.
Do you have anything you feel compelled now to say about your art?
I am fascinated by stories and storytelling. There is a wonderful drawing at the beginning of the book "The Tao of Pooh" called "The Vinegar Tasters". It shows 3 great teachers, Buddha, Confucius and Lao Tzu. I believe Buddha's reaction revealed something about the world as a place of suffering with desires that lead us astray - desire in the form of trying too hard, and wanting more, is a problem. Confucius has a really sour face, he doesn't like the sourness of the vinegar as he doesn't like the way things are in the world, which he would like to change and control, and his way of dealing with things was to make lots of social rules and laws. Lao Tzu is smiling because he delights in the nature of the vinegar being just what it is. Objects and places hold narratives of personal history and collective memory. My photos are story thresholds.
Is there an artist that keeps coming back to you for inspiration?
The Cuban photographer Abelardo Morell, for his astonishing way of seeing things; The actor/writer Roberto Benigni for his ability to leap into the unknown in his storytelling; The painter Milton Avery for his beautiful way of seeing landscape
Do you feel you have support from colleagues?
With colleagues who are passionate in their work investigating life and the world in their art making, I do feel mutual respect and support.
Do you feel removed from the conventional world?
The conventional world shouldn't exclude the unconventional or the outsider, but I do feel that it tends to define and commodify artists at our expense. We all bring things to the table - I am very grateful that I continue to find places that will bring my work to an engaged audience.
What is it like to wake up everyday for you?
Waking up is a challenge.
What role do you see your art having in society?
My work is an invitation to perceiving objects and places in a new way.
Do you get high from creating?
Creating is life at its best. When doing work, I am too much in it to stop and say wow, I feel great, but I suppose in the midst of working I feel most alive. That's pretty great.
What are you not being asked that you'd like to share?
Making art is a continuous process of discovery.
When are you most happy?
In genuine conversations, fabricating things I'd like to see in the world, translating meaningful perceptions, especially when shared.