Don Perlis. "Woman Warriers," 2019, 54"x78"
Meet artist Don Perlis. A selection of his work will be on exhibition at Green Kill in July of 2020.

He prefers to express himself though his art but he did very generously answer the Green kill Ten Quetions which you can read below.
There are plenty of writers who have celebrated him and his work. A wonderfully informative list of reviews are available here. If one person may be quoted for example, let it be the late Raymond J. Steiner, a notable writer poet, essayist, lecturer, and painter in his own right:
Perlis is a painter who feels, who sees, and above all, who thinks — a rare treat for this writer who, in his 35 years of writing about art, finds fewer and fewer such artists. A probing scholar, Perlis's province not only includes his world of artistic knowledge and technical skill, but also of ancient lore, of mythology, of history — in brief, the world of man. His shelves in his study include books on such classical writers as Ovid and Homer, ancient writers about whom he constantly seeks newer — and better — translations. But this is no idle intellectual curiosity on his part; Perlis knows that there is never one translation of a given event, idea, or thing — and, given that his subject matter is largely representational, this is no small insight.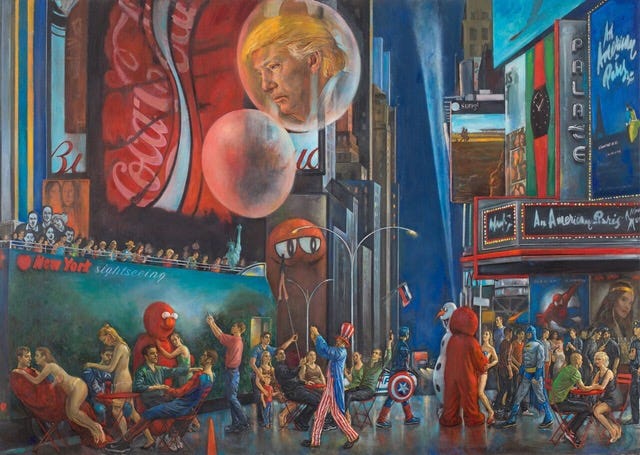 Don Perlis, "Trumpworld," 2016-2018, 62"x86"
At recent exhibition, "Tumpworld," at Firecat Projects in Chicago, open in November of 2018 the guest author commented:
Don Perlis' work is like a garish, candied wonderland. It is bright and appealing, even seductive. While his paintings possess a controlled technique, these are cheeky scenes of sarcasm, a showing of the increasingly disturbing hilarity of American life right now.
Ten Questions
Do you remember when you first saw yourself as an artist?
Yes. I was just a little kid but from my earliest years I could always draw better than anyone in my classes so it gave me confidence as well as a mission. I even remember as a 3 or 4 year old drawing cartoon characters with chalk on the sidewalk in the Bronx and basking in the praise of the grownups that were watching.
Do you have anything you feel compelled now to say about your art?
I don't feel "compelled" to explain anything.
Is there an artist that keeps coming back to you for inspiration?
I have been immersed in pre-modernist art history most of my life and love so many painters of the past from many different countries that its hard to pick one.

Since I first discovered what painters had done, there was always one guy who I felt a special personal affinity with who I keep coming back to, and it is Antonio Allegri, commonly known as Correggio, which is also the name of the small town in Italy, near Parma that he came from.

When I first got married in 1968, my wife was English, and her mother gave us a little red Beetle as a gift. We picked it up in Belgium and spent the next 2 months going around country by country and city by city in Europe. From Italy, France, Spain, Germany, Austria, Belgium, sleeping at campsites in a pup tent and going from one museum to another. That trip had a profound effect on me as it was the first time I was powerfully struck by the incredible quality of the most prominent works. I got an on the ground lesson of how painting actually developed with each country adding and contributing to the ongoing tradition. I felt, and still do that is very necessary to see these works in situ, in their native countries and under their native sun. In that sense the Met in New York can be confusing, although I always go there. The immensity and shock of that experience and has never left me.


Another another major influence on my work is Lenny Bruce.
Do you feel you have support from colleagues?
From the first moment when I first showed a group of 4 paintings at the Whitney in 1970 I had support, and then I had my first solo show at Graham a year later. I was the youngest artist at Graham with a stable comprising Alice Neel, Edwin Dickenson and Lennart Anderson, who initially helped me with Graham, as well as getting me my first teaching job. I was Alfred Leslie's assistant for a few years in my early twenties and was his model for the lower part of his self-portrait at the Whitney. After my show I spent a summer teaching at Skowhegan, a prominent art school in Maine that specialized in figurative painting. I had previously gone there as a student in the early sixties, where I met half the New York art-world at that time ( it was very small ). Ben Shawn and his wife, Jack Levine and his daughter Suzy who was also a student , Alex Katz, Al Held the painter, Al Leslie, and Frank Ohara, Robert Andrew Parker, the great watercolorist, Lennart Anderson as well as Marisol the sculptress and Henry Geldzhaler, the then curator of Contemporary art at the Met in NY. All these artists were all either there for a lecture or teaching .The summer I was teaching there I met Betty Davis the actress, who was there all summer as she was a friend of the founder, Bill Cummings, a prominent portrait painter of the twenties in Hollywood. Paul Georges who was teaching with me became a good friend, My wife and I moved to Bridgehampton soon after. Paul and Lizette had a house nearby in Sagoponic. Bridgehampton in that day was not fashionable. Besides the locals and the potato farmers there were lots of artists. Paul took me to see Bill Dekooning at his studio in Springs and that was memorable. Through Paul I met lots of artists, Jane Freileicher , Fairfield Porter. We went to their studios , their parties and swam in their pools, even painted together on the beach.

I have been fortunate in that I've had plenty of other artists as well as many critics supporting my work. Earlier, while I had been working on my show for Graham, Raphael Soyer, who had a big reputation at that time and had had a retrospective at the Whitney, became my mentor. Raphael who was then in his eighties, as well as being a very fine painter and Draughtsman, was very art-world savy, he had shared a studio with Arshile Gorky back in the thirties. He obtained an award for me from the "American Academy of Arts and Letters" right after my show at Graham. At the ceremony I met Georgia Okeefe as well as Aaron Copeland, the composer, Tom Hess who was the Editor of "Art News" at that time published a full color article on my work "How to be an Old Master at 28". That first solo show was reviewed by Hilton Kramer in the Times and Jed Perl also reviewed it favorably. Most of my subsequent shows have been covered by prominent critics. I've had about a dozen solo shows since in New York at different galleries. Charlie Finch, Anthony Haden-Guest and Lucio Pozzi have been especially supportive as well as David Cohen and there have been many others over the years. In 1994 a documentary on my work was made and narrated by F. Murray Abraham, with many prominent critics contributing. I also was awarded the final solo show at the "National Academy of Design Museum" at their old Fifth Avenue building 2 years ago so I have hardly been neglected.

Due to the nature of my work most current museums and critics are afraid of it, which I expect will change.
Do you feel removed from the conventional world?
I do not feel at all removed from the conventional world. I have a daughter as well as grandchildren and have to function in the real world
What is it like to wake up everyday for you?
Well I'm staying 24/7 in my studio during the Covid 19 crisis. I get up at 5:30 am and work till dark every day then finish up with a glass of wine, a movie, and hit the sack about 9 or 9:30 every night.
What role do you see your art having in society?
As my work is based on Societal events It could command a larger role, as it is I now have to wait until I exhibit my work to get a reaction.
Do you get high from creating?
I get a high if things go well.
What are you not being asked that you'd like to share?
My aspirations for the work which are very high in as much as I'd like to see a wholesale return to representational painting. I expect (and hope) my work to be instrumental in bringing that about, and I'm not talking about the fake photographic crap that is now prevalent. Any moron (including Richter), can ape a photograph, but to really draw and paint! And from imagination and not just ape reality either! To make compositions in a continuity of space. To achieve that has been so forgotten that it is fresh again. Now that's worth doing and seeing. I state this because of my love for the authentic real work that still fills the museums of the world and my lack of interest in the fake as well as all the other exhausted ideas that are constantly being recycled by current curators to numbing effect.
When are you most happy?
When I'm working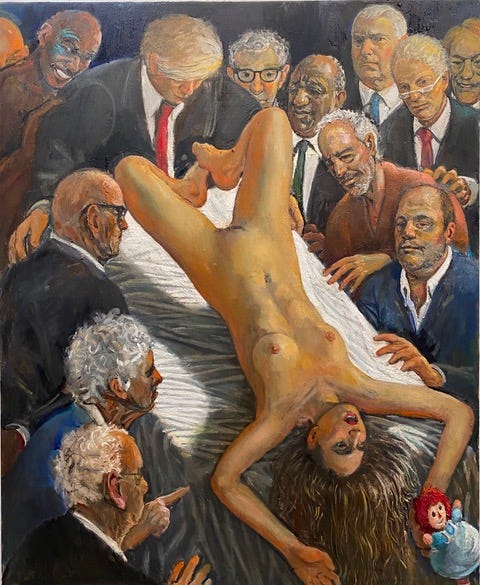 Don Perlis, "Epstein Follies, " 2020, Oil on canvas, 50"X 41"
A letter from New York by Lucio Pozzi
"Don Perlis (born 1941 Bronx, lives and works in New York) has given the title of its most important painting, "Trumpworld", to his solo show at the Firecat Gallery in Chicago. Naturally, it has caused discussions on the subject.
Bereft of conventions, as had been the Buddhas, the Madonnas, the Avant-gardes, even the Isms of the recent past, to support their gaze, the spectators of our time are desperately striving to hang onto some motif, any motif to look at visual art. But visual art retains the privilege of being visual, that is, of transcending its subject, whether it is a technical or a literary or political theme or something else. It either transcends it or it drowns in the swamp of no infamy and no praise like most of us artists of the competent yawn. Today's spectator has the fortune, unique in history, to be able to look at art without external guides but this fills him with fear.
Many artists respond to this situation by feeding the audience's desire for support: despite the risks, they sometimes explain with theoretical descriptions how one should to look at their work, other times they even cage their images inside narratives woven into the works. It is the case of "Trumpworld". To entitle a painting after the name and image of Trump, to place his image grandly at the center of the composition, means to draw attention to periodic news at the expense of the rich wonders of painting.
Perlis is a painter in the strong tradition of American social realism. His work is a relaunch of the Ashcan School of painting that flourished in the first half of the twentieth century, especially on the east coast of the continent. He went to study the great late nineteenth century Thomas Eakins, spent countless hours in museums and European churches learning from their immense vocabulary of forms and symbols, shadows, lights, body and transparencies. He then took the baggage of observations he has harvested and translates it into these paintings of his, that mythicize the common life of the American cauldron. The flying angels of Tintoretto or the Carracci become rap dancers who acrobatize in the subway cars, the crowdings of Bosch morph into Times Square: Batman next to the red teddy bear, a policeman who seems to come out of the illustrations of Norman Rockwell, dressed men who titillate or watch naked women, the nudistas, the long and dry Uncle Sam walking on stilts dressed in the US flag, the tourists, voyeurs unaware of their being not people but consumer products. But what attracts someone like me to the point of writing about it? Perlis is not a cold schemer, he works with passion in a petty artworld that can not but ignore him; unlike the past models he has chosen, his painting is not pleasant but is powerful, it's subtle but also physical, full of pentimento – the Renaissance definition of when the painter changes his mind but lets the visible record of such change be seen; instead of applying refined glazes he throws himself into adding brushstrokes where they are needed without regard to the rules. Despite the anecdotal themes, his is painting that transcends them."
—February 2019