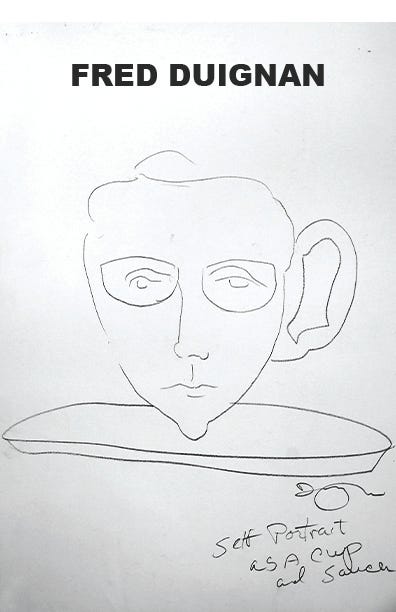 Cover of "Self Portrait as a Cup and Saucer"
Artist and writer Fred Duignan, who has exhibited and read at Green Kill several times, including an exhibition of his paintings July 2020 entitled "Unzipped", published book of poetry, "Self Portrait as a Cup and Saucer (Silver Hollow Press)" which will be available this summer with an Introduction by the Beat Poet, Andy Clausen. The cost will be $7.99.
He began writing poetry as a young man in High School where he was wrongly accused of plagiarizing his first poem. He began publishing as a member of LUNCH, a poetry group that created a magazine by the same name as a non-student on the campus of Fairleigh Dickinson University in Rutherford, New Jersey.
Fred is a painter who graduated from the University of California Santa Cruz. He is a past Curator of Contemporary Art at the Paterson Museum in New Jersey and is a former art critic for COVER, a downtown NYC Arts & Entertainment Magazine.
Selected Poem From "Self Portrait as a Cup and Saucer"
About "Unzipped"
Fred Duignan, "Meditation 2."
My new work "Unzipped"addresses the spiritual crisis that I personally feel as age, physical infirmity and the accumulation of time lived feels like a personal denouement. These works attempt to open the space so long closed off by systems of religious doctrine and practice as well as art dogma disguised as critical theory.
If as Donald Kuspit (from a talk at the School of the ArtsSpace at Virginia Commonwealth University in Richmond about Kandinsky's "On The Spiritual in Art)" maintains, Barnet Newman and Mark Rothko serve as spiritual provocateurs then the Unzipped series is my response to this provocation to describe the stages of my spiritual experience by opening up and walking past Newman's plastic convention of the singular mark (zip) that identifies spatial structure and denotes the absolute and sublime to address my personal spiritual narratives.
As this work struggles to be effective within the banal, materialistic, business-dominated art world, this procerss mixes with individual impressions of light and dark, color and structure as well as content and impulse to express these experiences and aspirations within the ritual of the studio where the journey is the destination.
—Fred Duignan
Fred Duignan very generously answered the Green Kill ten questions which were included in the announcment for his July 2020 exhibition:
Ten Questions

Do you remember when you first saw yourself as an artist?
I had taken a Life Drawing class on the suggestion of a friend, since I was having a nervous breakdown in the NYC banking industry. On the first night, the professor asked me what I did for a living. When I told him, I was working at a large New York bank, he told me to go to work the next day and quit so that I could go to art school. Brushing this nonsense off, I continued to attend the sessions and became committed to making images on the night of the seventh week.
Do you have anything you feel compelled now to say about your art?
After many years of harnessing technique, pursuing picturing, following trends, and restating history, I now avoid making art that is burdened by technique, overwhelmed by thought, or crushed by style. The resulting objects of my latest direction, reveal, inform, and decide their place in the world's view. Painting has become an experience based on the belief in my hand as a channel of the expression hidden in the materials themselves. It is the resultant dialogue with color and form where my originality resides. The uniqueness of the object as itself fully revealed presents the viewer with a complex visual experience resulting in direct recognition.
Is there an artist that keeps coming back to you for inspiration?
Myself.
Do you feel you have support from colleagues?
I have a few painters who I trust to view my work with a focused eye without the jaundice of competitiveness. My poetry friends and colleagues who are art writers as well as those who work in other media are much more reliable and unbiased when making comment.
Do you feel removed from the conventional world?
I am in the world, but not of the world.
What is it like to wake up everyday for you?
Since moving to Woodstock, my mornings are filled with gratitude, fresh air and anticipation.
What role do you see your art having in society?
If my paintings impact the viewer enough to think of something other than themselves in relation to them, the work succeeds.
Do you get high from creating?
I live in a perpetual state of artistic doubt, which helps me push harder.
What are you not being asked that you'd like to share?
Nothing.
When are you most happy?
I am most happy while floating in the pool on a hot day.